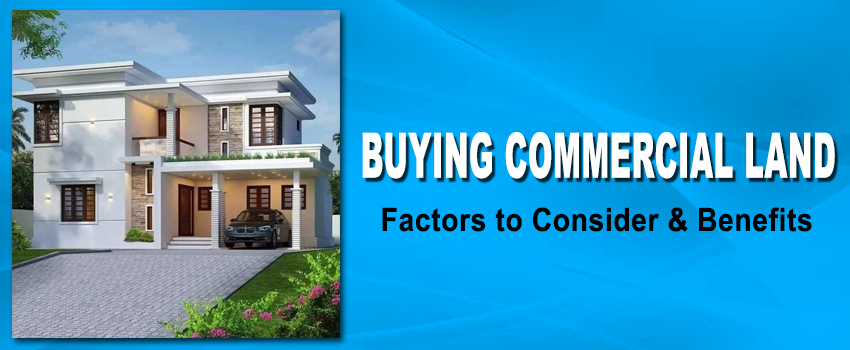 Commercial land has been considered one of the best sources of investment with price appreciation. However, commercial land also helps in the diversification of portfolios and helps in increasing investments. Thus, buying commercial land requires more funds compared to residential property. Behror is one of the prominent cities of Rajasthan situated in the Alwar district. Behror is widely and well-connected to Delhi and Mumbai efficiently.
Behror is situated on National Highway 8 and is a renowned hub for several industries and manufacturing units. This city is considered to upcoming and growing business hub with an excellent economy and heritage. Owing to such excellent cultural heritage and economic opportunities, several commercial lands for sale in NH 8 Behror give excellent income opportunities. Commercial property is a trustable and reliable type of real estate where prices do not change frequently.
Here are some of the factors mentioned that are considered before buying Commercial Property.
Location
The vital factor for selecting commercial land is the location of the property which will help in growing businesses. The location of the property needs to be accessible from major roads and highways that will help in blooming the business. The location of the commercial land should have all the basic amenities.
Size of Property
The size of the property plays a vital role before selecting any property. However, larger pieces of commercial land will generate more income and small commercial land is suitable for businesses.
Applicable Laws
However, before, buying any property, make sure that laws are suitable before buying any land in Behror. The applicable license and certification for the property are taken before buying the property. Thus, accurate licensing will help in getting a good amount and rent for the property.
Here are some of the benefits of buying commercial land in Behror.
Best Investment Option
Investment in commercial lands for sale in NH 8 Behror ensures secure and safest forms of income-generating methods. The income from commercial property remains stable irrespective of market volatility and attracts lots of investors.
Value Appreciation
The commercial property ensures more appreciation on cost and gives more benefits to the investors over the long run. Thus, an investment in commercial land is a secure and trustable investment in real estate.
Regular Income
The commercial gives regular income compared to shares, bonds, and mutual funds. Thus, investing in commercial property gives stable income during unstable market conditions. Thus, investment in commercial land is the best option for investment in real estate.
So, we can conclude that commercial land for sale in Behror gives an immense return on investment. Thus, if you are looking for commercial land for sale in Behror, you must keep in mind for abovementioned points before buying property. Commercial property gives more yields than residential property and valuation increases accordingly. The commercial property can be given for Hospital space, retail space, industries, and office spaces.
Thus, all the factors like location and size of commercial property play a vital role in purchasing any property. However, taxation laws and other applicable compliances are to be fulfilled carefully before buying any property. However, financing on commercial property has attractive options and excellent appreciation.