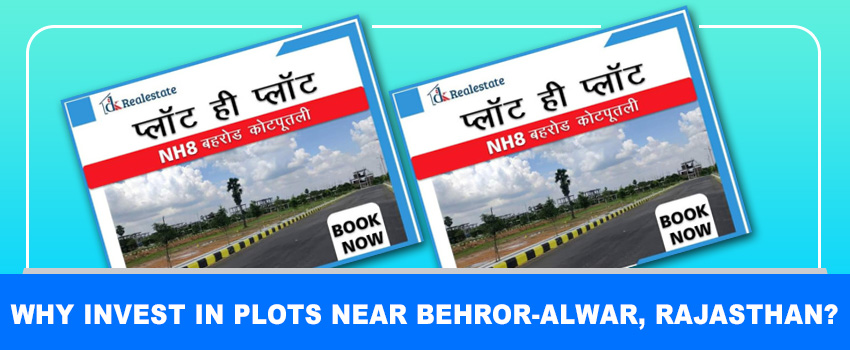 In the Indian state of Rajasthan, the Behror-Alwar area is becoming more and more of a desirable place to build real estate. This area is well-connected to important cities like Delhi, Gurgaon, and Jaipur due to its strategic location along the Delhi-Jaipur route. Developers and investors hoping to capitalize on its growth potential are becoming more interested in it due to its proximity to the National Capital Region (NCR).


The Behror-Alwar region has seen a noticeable emphasis on infrastructural development in recent years. This covers the creation of additional roadways, industrial zones, and special economic zones in addition to the growth of highways. The area has benefited from these initiatives in terms of drawing in residents, companies, and industries, which has increased demand for real estate.

There are a lot of reasons why one should invest in a 200 sq. yards residential plot for sale in NH 8 Behror.
Location And Connectivity
The geographic benefit of the Behror-Alwar region cannot be emphasized. Ideally located near the Delhi-Jaipur highway, it offers great access to major cities such as Delhi, Gurgaon, and Jaipur. This link has changed everything, drawing in inhabitants, companies, and other industries. The corridor's economic growth has increased demand for real estate, which has made it an ideal place to make profitable investments.
Infrastructure Development
Its strong infrastructure development is one of the main reasons Behror-Alwar has become a hub for investments. Significant expenditures have been made on the region's highways, road networks, and transportation infrastructure. In addition to making travel easier, this infrastructure drive has opened the door for business and industrial expansion. The demand for real estate, especially plots for commercial and industrial usage, has increased as industries establish themselves and enterprises prosper.


Residential Haven
In addition to drawing in business, Behror-Alwar is growing in popularity as a place to live. Numerous individuals have chosen to live in the area because of the appeal of a tranquil suburban lifestyle that is nevertheless easily accessible to major cities. In response, real estate developers have provided a wide variety of residential plots to suit a range of tastes and price points. The residential real estate sector in Behror-Alwar is booming, including everything from modest house developments to expensive villa complexes.


Commercial Opportunities
Additionally, investors who are on the lookout for business prospects are focusing on Behror-Alwar. The area is ideally situated for commercial developments due to its proximity to important economic centers. There is an unprecedented demand for commercial plots and spaces as new initiatives and businesses grow. Setting up an office, a store, or a mixed-use development has a strong chance of yielding large returns on investment.


Tourism And Hospitality Ventures
Behror-Alwar is a desirable location for tourism and hospitality endeavors because of its stunning natural surroundings and rich cultural legacy. With its rich history, beautiful scenery, and vibrant local culture, the area is ideal for operating a profitable hotel business. Plots for hotels, resorts, and other lodging facilities are being investigated by investors hoping to profit from the expanding tourism sector. The opportunity for large earnings grows along with the increase in tourists to the region.

Choose to hire the best real estate agents and invest in the best 200sq yards residential plot for sale in NH 8 Behror.